Welcome to Drive Forward Friday, your monthly dose of STEM robotics insights!
We're here to keep you informed about what's on the horizon. We're also reflecting on some of the gems you missed in the last month. Whether you are a teacher, administrator, robotics coach, or parent – welcome!
Let's dive into this month's highlights:
Bucky Basketball: An EXP STEM Lab
VEX 123 Robotics in Special Education
---
Virtual Robotics: What's New With VEXcode VR?
We're excited about our latest VEXcode VR updates. This is your gateway to the world of Virtual Robotics that supplements what you can do with a physical robot. We have a free PD+ preview called VEXcode VR, Remote Learning About VEX Robots that explains this in greater detail.
Quick Pitch: VEXcode VR offers both an online and offline version, making it easier to dive in and learn coding as you need to. This approach reflects VEX Robotics' commitment to accessibility in robotics education.
We worked on a few new things over the summer that you should check out:
Educators are at the heart of VEXcode VR's success. The platform provides a robust support system, offering resources, professional development opportunities, and a community of educators dedicated to enriching the teaching and learning experience by making it:
Connect computer science (CS) to STEM.
It's easy to use.
Students Gain Immediate Feedback.
Best of all – it's fun!
Finally, VEXcode VR rekindles the passion for robotics education by offering an immersive, accessible, and captivating experience for learners of all ages. Whether you're an experienced educator or a newcomer eager to inspire future innovators, VEXcode VR invites you to explore a world where learning is an adventure with limitless possibilities.
Share this on social media:
---
Bucky Basketball: A Slam Dunk Challenge for You and Your CatapultBot!
Are you ready for a slam dunk challenge with your CatapultBot? Join us in the exciting world of Bucky Basketball, a high-energy timed trial competition where you and your CatapultBot shoot hoops like the pros.
In Bucky Basketball, you'll race against the clock, aiming to score as many points as possible by shooting buckyballs into the hoop. Your precision and strategy will be put to the test as you fine-tune your CatapultBot's performance. Remember, practice makes perfect, and Bucky Basketball is all about the adventure of improvement.
Compete against friends or fellow CatapultBot enthusiasts to claim the title of Bucky Basketball champion. So, what are you waiting for? Dive in, fine-tune your CatapultBot, and aim for that high score. Bucky Basketball is more than a game; it's a journey of discovery, enhancement, and endless excitement. Some quick highlights:
Students can now construct the hoop and the base, with an alternative if you don't have tiles.
Build videos provided in the VEX EXP STEM Lab
This fun competition allows students to investigate the intake and catapult mechanisms – how they work together to gather up and shoot buckyballs.
Teachers, find your resources here.
Share this on social media:
---
Exploring the Exciting World of VEX 123: A Revolutionary Educational Tool
In the ever-evolving landscape of early childhood education, VEX 123 shines as a revolutionary tool. Designed for early learners, it introduces students to computer science and coding in a playful, hands-on way. With sensors and a user-friendly interface, VEX 123 engages students in subjects like mathematics, science, and computer science.
This tool promotes hands-on learning to help teach computer science. VEX 123 is Coding Starts early. We want to reach students before they form any negative perceptions about their abilities. It fosters collaboration, critical thinking, and problem-solving skills, preparing students for the challenges of the future.
VEX 123 is a game-changer in education, offering interactive and immersive learning experiences. It empowers students to become familiar with computer science, stronger problem solvers, critical thinkers, and creative innovators, shaping a brighter future. Find out more here.
Have you seen our STEM Labs? Here's a few of our favorites: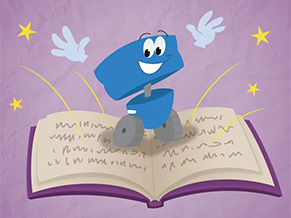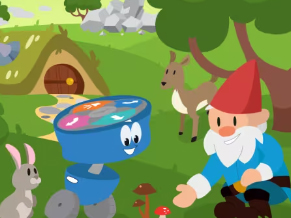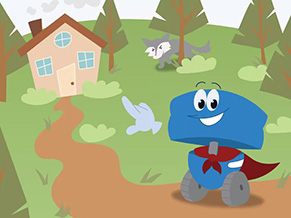 Learn more about how to bring VEX 123 into your classroom.
Share this on social media:
---
VEX 123 Robotics in Special Education Classrooms
A recent visit to Apollo Middle School in Broward County, FL showcased the inspiring impact of VEX 123 in special education classrooms. Students were engaged and excited, and the integration of VEX 123 into the curriculum was seamless.
VEX 123's flexibility in coding options and tactile learning methods catered to diverse learning needs. It's a step forward in inclusive computer science education.
The use of VEX 123 at Apollo Middle School represents a shift in how we approach STEM education. It allows students to learn at their own pace, fostering a deeper understanding of mathematics and problem-solving.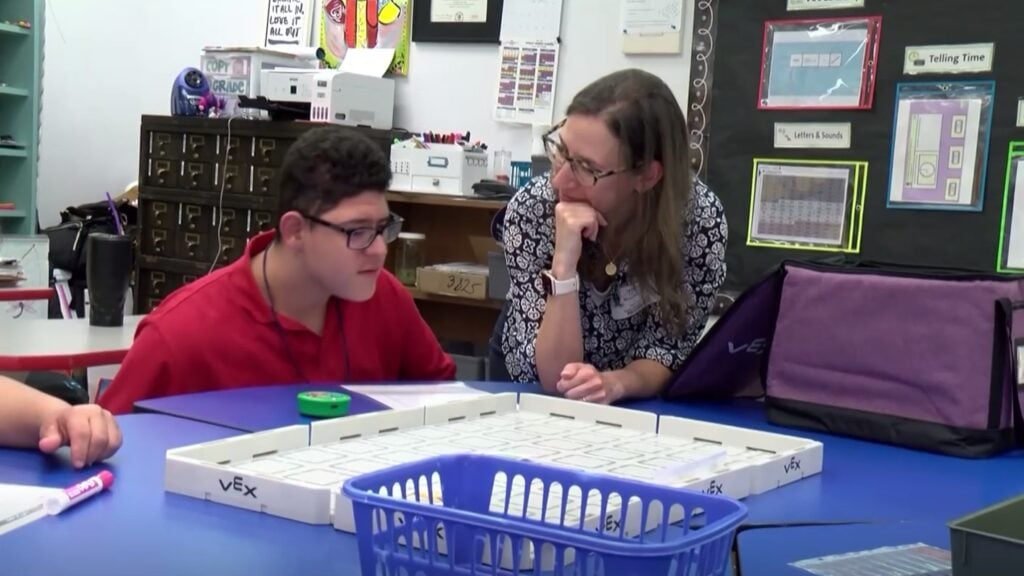 Read the full story here.

Robotics in the Special Education Classroom with VEX 123

A few weeks ago, I had the privilege of visiting Apollo Middle School in Hollywood, Florida. The VEX 123 robot has been seamlessly integrated into their special education curriculum. The scene that unfolded before my eyes was inspiring: a room teeming with enthusiastic children, their faces beaming with curiosity.

The Medium is the Message

It struck me how naturally the VEX 123 robot was incorporated into the teaching methodology in a landscape where tech implementations often feel forced. The teacher behind this innovative approach, Gabriella McCauley, shared her insights: "The kids are so engrossed that they rarely let me take on my traditional role." It is considered a game by them—an exciting adventure. Her experience echoes the VEX Robotics mission; we are not merely crafting robots, but also helping educators create memorable learning opportunities.

Bridging the Divide

It wasn't a coincidence that Apollo's special education program included the VEX 123 robot. The project is part of a broader initiative led by the National Science Foundation and Google that aims to promote inclusivity in computer science education. Dr. Maya Israel, hailing from the University of Florida, articulates the overarching goal, stating: "Our mission is to make computer science accessible to all children, irrespective of their abilities or disabilities."

The VEX 123 Advantage

VEX 123 is notable for its versatility in coding methods. VEXcode 123 offers three distinct approaches: touch-button coding, the Coder, and VEXcode 123. Students can begin programming with button-based instructions thanks to this diversity. The student may then progress to the Coder and eventually delve into block-based coding using VEXcode 123. All three methodologies were actively employed in the classroom to ensure that each student received instruction according to his or her skill level. Coder Cards and touch-button coding together make coding a challenge akin to building a VEX robot through the use of physical objects as representations of coding commands. These environments may, however, limit project scope and complexity. The transition to VEXcode 123 can be seamless in such cases. With this virtual environment, key design elements of tangible coding can be maintained through an analogy of a program command as a puzzle piece, which provides visual guidance on how coding commands interact.

Conclusion: Tangible Impact with VEX 123

Incorporating VEX 123 at Apollo Middle School is more than just another STEM initiative. We are embarking on a pivotal shift in STEM education. The robot's adaptable coding options let students progress at their own pace, starting with simple button commands and gradually advancing to more complex block-based coding. With this adaptability, STEM education becomes accessible to all, regardless of their compatibility with traditional classroom settings.
Share this on social media:
---
ACTE Call-Out – Meet Lauren Harter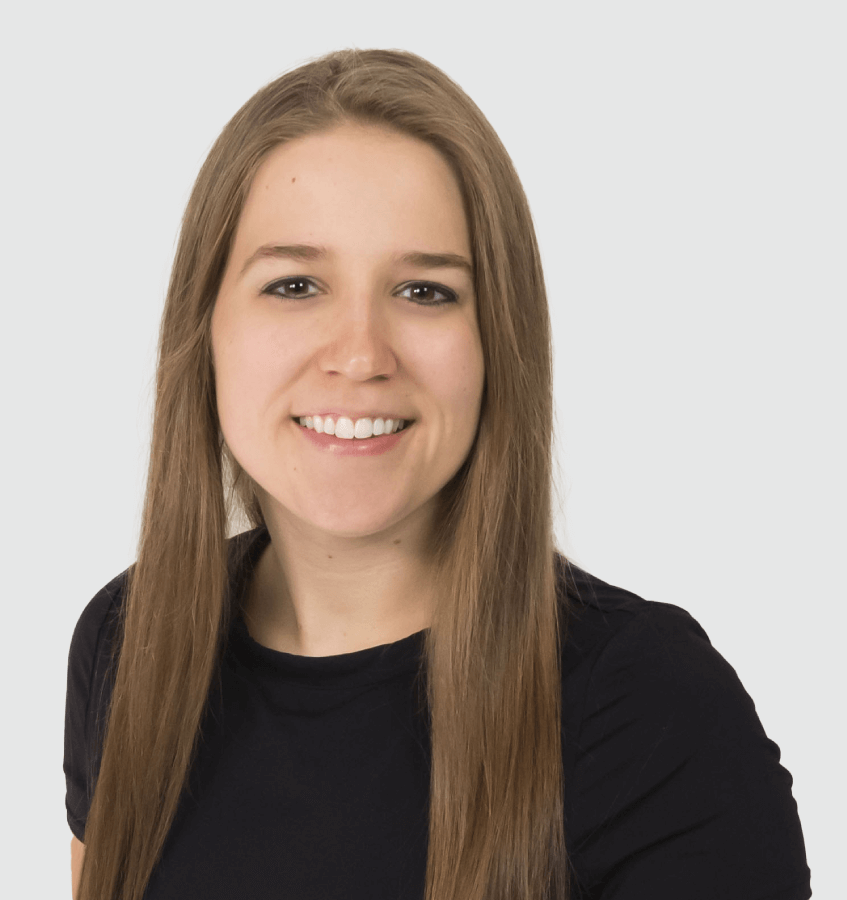 Meet Lauren Harter, Director of Instructional Technology at VEX Robotics and our featured educator at ACTE CareerTech Vision 2023 this November. Lauren brings a wealth of educational experience to our team. Lauren has a strong background in education, having taught high school and college, ranging from teaching education (pedagogy) as well as mathematics and creating educational materials that are used globally.
Lauren holds a dual bachelor's degree in Mathematics and Secondary Mathematics Education, plus a Masters in Secondary Education Mathematics showcasing her dedication to both the subject matter and the art of teaching. Currently, she is pursuing her doctorate, demonstrating her commitment to elevating the quality of teaching in the field of robotics and STEM education.
We are thrilled to announce VEX Robotics' participation in the Association for Career and Technical Education (ACTE) conference, ACTE's CareerTech Vision, taking place from November 29 to December 2. This conference promises to be a fantastic opportunity to explore the exciting future of Career and Technical Education (CTE) through the lens of robotics.
Join Lauren and other members of the VEX Robotics team at the conference as we delve into the limitless possibilities that robotics offers in CTE education. Together, we will inspire and empower educators to prepare students for successful careers in the ever-evolving world of technology.
In Lauren's words, "Robotics education isn't just about building robots; it's about building futures. I am excited to be part of a team that is passionate about shaping the next generation of innovators, problem solvers, and leaders through CTE and robotics education."
Share this on social media:
---
That's a wrap for this month's Drive Forward Friday. Stay tuned for more exciting updates in the world of STEM robotics. Until next month!