Welcome to the November-focused edition of "Drive Forward Friday," VEX Robotics' newsletter.
Diving into this month's exciting updates, we bid farewell to an October full of robotic treats. Here's what's on our agenda:
It isn't just about building robots; it's about building futures
Save the Date for the 2024 VEX Educators Conference
Putting Research Into Practice
Answering Your V5 Pneumatics Questions
---
Lauren Harter: "It isn't just about building robots; it's about building futures"
We're thrilled that VEX Robotics will participate in the Association for Career and Technical Education (ACTE) conference, ACTE's CareerTech Vision, from November 29 to December 2. This conference is a fantastic opportunity to explore the exciting future of Career and Technical Education (CTE) through robotics. We will also show off the new VEX CTE Workcell (2nd Gen).
Join Lauren Harter, our Director of Instructional Technology at VEX Robotics, and other members of the VEX Robotics team at the conference. We will dive into the possibilities that robotics offers in CTE education. Together, we aim to inspire and empower educators to prepare students for successful careers in the ever-evolving world of technology.
Lauren says, "Robotics education isn't just about building robots; it's about building futures." She is a proud team member who is passionate about shaping the next generation of innovators, problem solvers, and leaders through CTE and robotics education.
Explore how VEX Robotics approaches CTE at teachCTE.vex.com
Learn more about ACTE's CareerTech Vision
Finally, hear firsthand how Lauren thinks about education and robotics from her appearance on the Stemming In Stillettos podcast
Share this on social media:
---
Held during the prestigious VEX Robotics World Championship, this conference is a must-attend event where you can:
Build lasting connections with fellow educators.
Gain practical classroom strategies for robotics integration.
Dive into engaging hands-on sessions and inspiring talks from leading educators.
Share stories and learn from real-world classroom successes.
Access the conference page directly from your dashboard by selecting 'Conference' and stay updated with all the event details!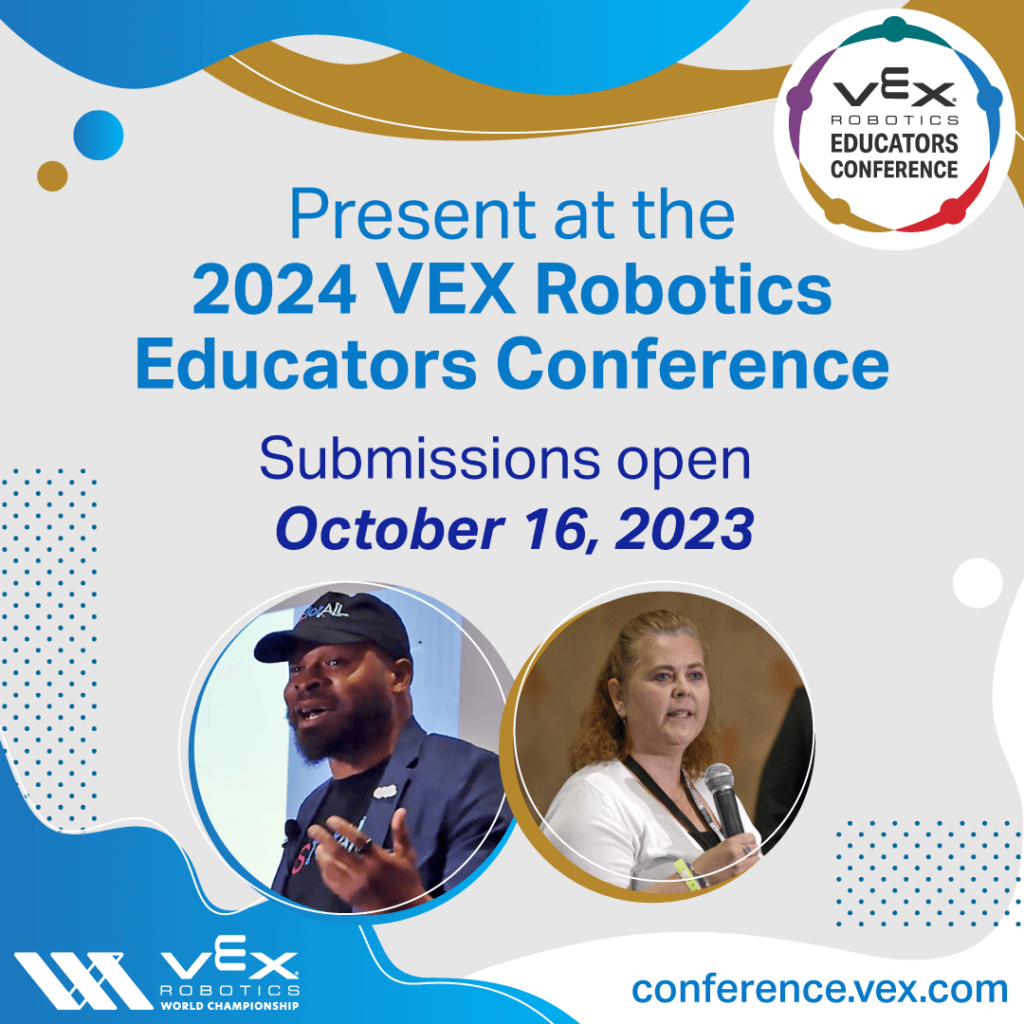 Want to present at the 2024 VEX Robotics Educators Conference?
Join us as we open the stage to the VEX Community for the first time. Now is the perfect opportunity if you've been contemplating showcasing your expertise.
Proposal submissions are being accepted now! You can access the submission form directly here.
Perks for Our Presenters
PD+ All-Access Members: Your subscription will be extended for an extra year.
For New Faces: If you aren't a PD+ All-Access Subscriber and are chosen to present, enjoy a complimentary year of PD+ All-Access and a free pass to the Conference.
We encourage you to spread the word to your colleagues and friends about this opportunity to share their insights and presentations. As a speaker, you can present in the Exhibition Hall, the Main Stage, or even both!
Share this on social media:
---
Putting Educational Research Into Practice
In the pivotal study, "Insights from Teaching with a Virtual Robotic Solution During the Pandemic: A Mixed-Methods Inquiry," authors Lauren Harter and Jason McKenna from VEX Robotics explore the emergent role of virtual robotics in sustaining K-12 education amidst the upheavals caused by the COVID-19 pandemic. This research highlights the adaptive responses of educational approaches during the global crisis. It emphasizes not just survival but growth and innovation from adversity.
By integrating concrete usage data with teacher experiences, this study provides a holistic picture of the first year of schooling during the pandemic. From this rich narrative, key themes emerge, demonstrating the educational community's capacity for adaptability. These themes demonstrate commitment to maintaining educational continuity and the indispensable support provided by tailored curricula during these shifting times.
Among these insights, one particularly significant finding emerges the capacity of virtual environments to foster newfound confidence in students tackling iterative programming. This skill, essential in STEM, thrives in an atmosphere where trial and error are part of the learning journey. This is a condition that virtual simulations are well suited to provide.
Harter, McKenna, and Van Campenhout contribute beyond immediate pedagogical solutions amid the crisis. Their work initiates critical discourse on the confluence of virtual and physical educational spaces. It points toward profound shifts in teaching methodologies in the post-pandemic world. These insights reflect educational resilience in trying circumstances and are a beacon, guiding future directions for educational strategies, particularly in robotics and STEM disciplines.
Access this research article and more on the VEX Robotics Research page. Some partner sites may require a paid subscription.
Share this on social media:
---
National STEM Day is Coming
Prepare for a day of innovation, creativity, and discovery as National STEM Day approaches November 8! This day isn't just another date on the calendar; it's a celebration of the fields that shape our future: Science, Technology, Engineering, and Mathematics (STEM). With the growing influence of these sectors in our everyday lives, there's no better way to commemorate this day than by diving into the hands-on, mind-stimulating world of VEX Camps.
Explore camps.vex.com.
VEX Camps offer innovative educational experiences to ignite a passion for these crucial disciplines. As we gear up for STEM Day, let's explore what these camps offer. This is both for participants eager to learn and enthusiasts poised to lead by running a camp.
For attendees: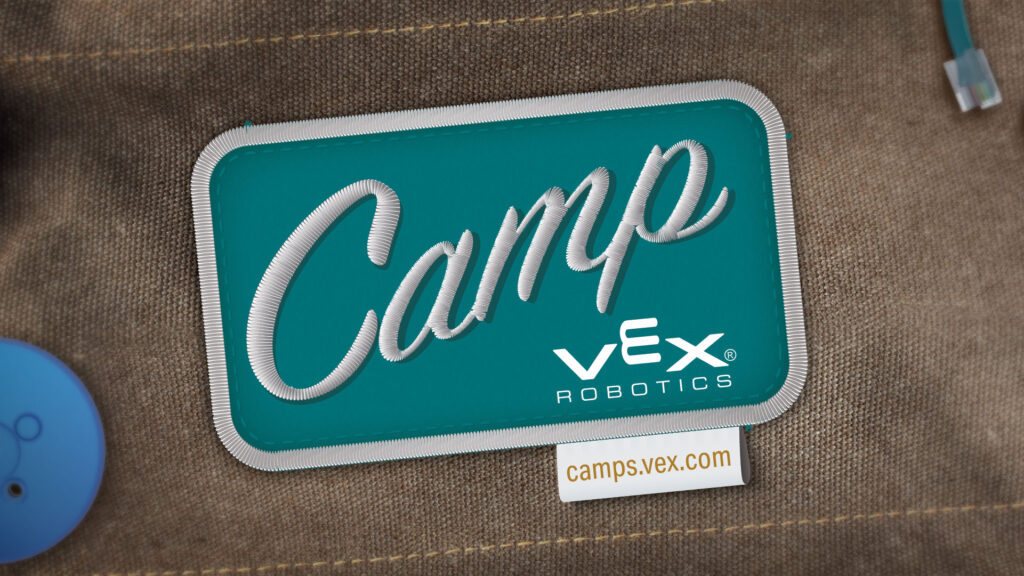 The journey begins with the VEX GO STEM Camp, where participants aren't just taught but immersed in an environment that encourages practical learning. Here, young minds engage with complex concepts and real-world problems, guided by experts dedicated to making STEM subjects accessible and exciting. The camp provides an exploratory space where students challenge themselves, discovering how the theories they learn in school become innovations that change the world.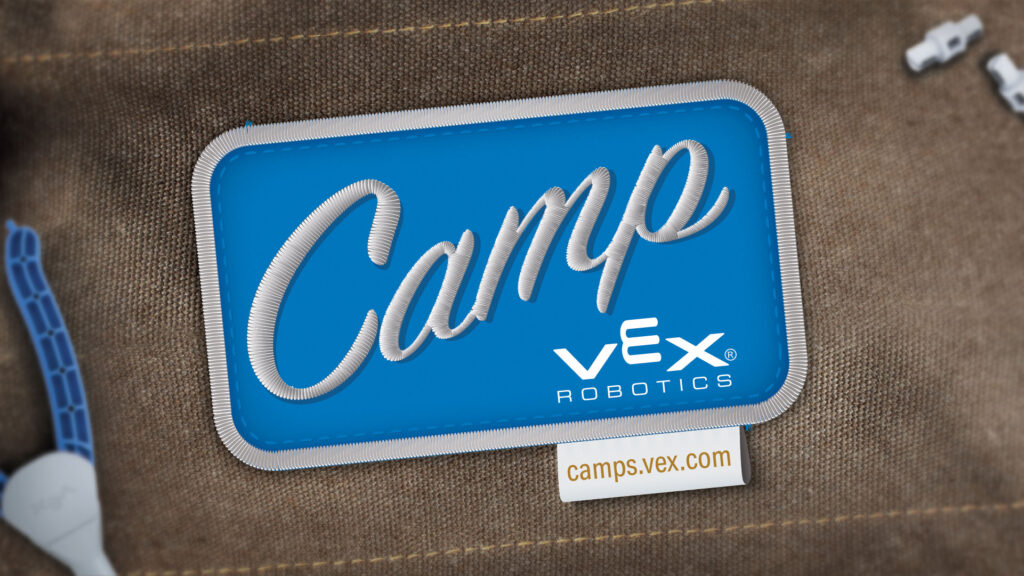 Imagine the thrill of bringing a robot to life! The VEX IQ Robot Games Camp is all about competition and education. Participants will delve into the mechanics and engineering behind robots, learning not only how they function but also how to innovate. These aren't just games; they're catalysts for inspiration, pushing students to think beyond boundaries and envision their future roles in technology fields.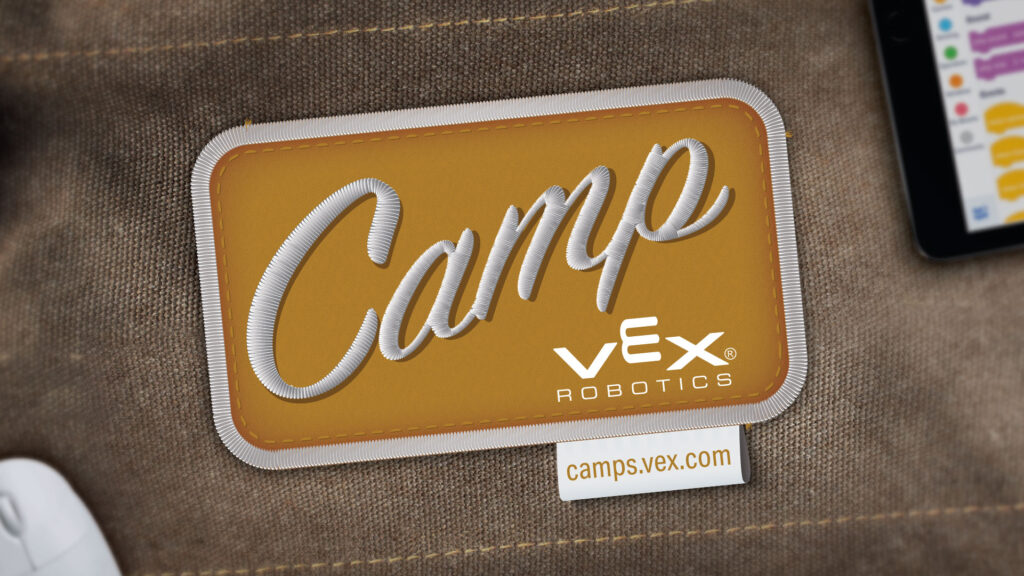 3. VEXcode VR Creativity in Coding Camp:
Unlock the limitless potential behind every line of code in the Creativity in Coding camp. This program demystifies the world of coding, allowing participants to see how every piece of technology they use started with lines of code. It's a creative playground where codes don't just execute commands; they build worlds, create solutions, and trigger innovations.
For Enthusiasts – Run a Camp:
Ready to be inspired? VEX provides resources for passionate individuals to run their camps. This opportunity isn't just about teaching STEM; it's about being a leader, a mentor, and an inspirer. It's for those ready to share their passion for STEM and cultivate a supportive environment where learners can thrive. By running a camp, you're contributing to a globally educated, innovative, and technologically prepared generation.
As National STEM Day draws near, remember that it's more than a tribute to these educational fields; it's a call to action. Whether you're learning, teaching, or mentoring, you're part of a more significant movement that acknowledges STEM's power to shape minds, lives, and the world's future. Join the celebration, and let's step forward together!
Share this on social media:
---
We're thrilled to announce that the VEX Robotics team will be exhibiting at EDUtech Asia 2023

This is the foremost educational technology conference in the Asia-Pacific region. This year, we're bringing the exciting world of VEX Robotics to educators, administrators, and technology enthusiasts, showcasing how our innovative products are reshaping STEM education.
Key Highlights for 2023
Dive into the world of primary and secondary school STEM education with VEX IQ. Learn how our versatile kits empower students to design, build, and program robots to complete real-world challenges. Discover how VEX IQ inspires young minds to explore science and engineering concepts through hands-on activities.
Learn about our comprehensive educator resources, including curriculum, lesson plans, and professional development opportunities. See how we provide educators with the tools and support they need to integrate robotics seamlessly into their classrooms and foster a love for STEM among their students.
Hear from students who have embraced VEX Robotics and experienced transformative learning journeys. Discover how participation in VEX Robotics competitions has not only enriched their STEM knowledge but also developed crucial life skills such as teamwork, leadership, and adaptability.
Gain insights into how VEX Robotics prepares students for the jobs of the future. Learn how our programs instill problem-solving abilities, critical thinking, and a passion for innovation—qualities that are in high demand in today's tech-driven world.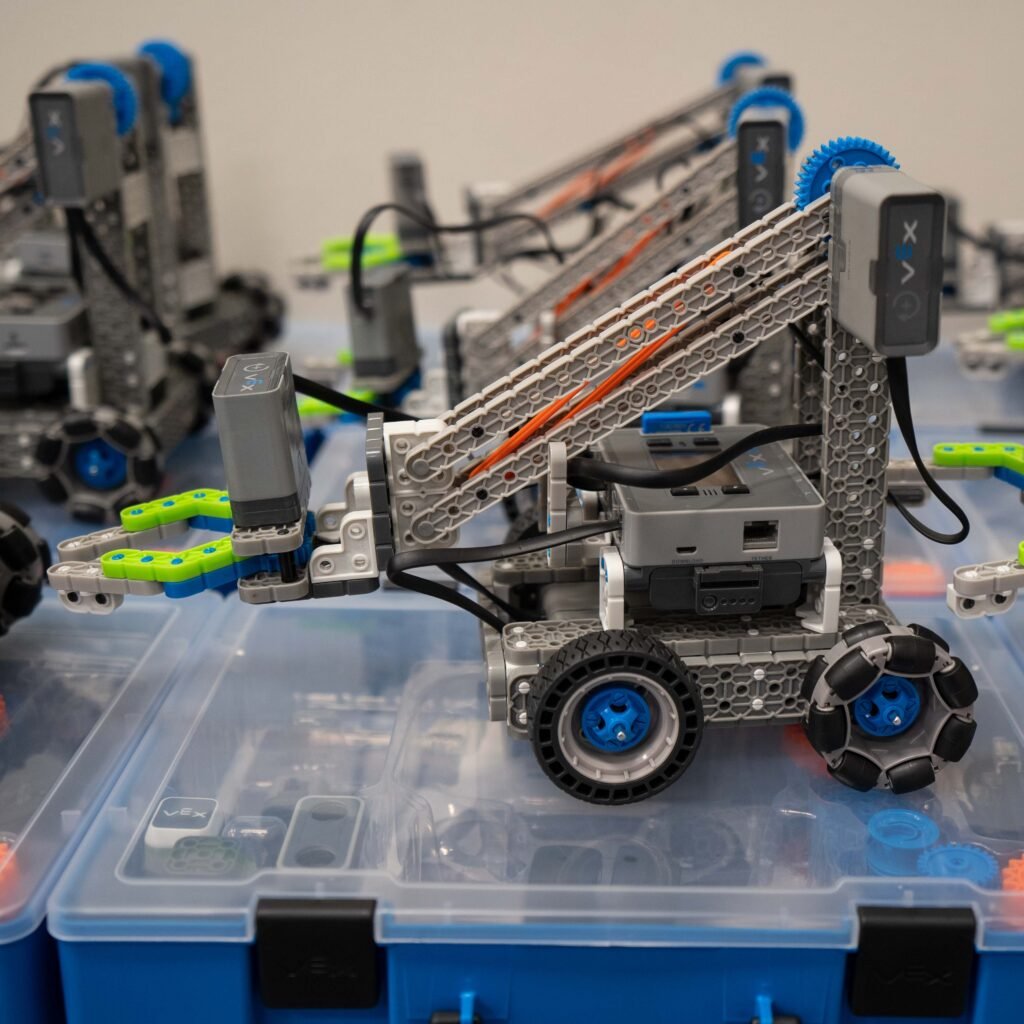 Join us at EDUtech Asia 2023 to unlock the potential of VEX Robotics in your educational institution. Whether you're a teacher looking to enhance your STEM curriculum or an administrator seeking to invest in cutting-edge educational technology, our team will provide you with the guidance and resources you need to build confidence and teacher capacity.
At VEX Robotics, we're dedicated to shaping the future of education through hands-on, immersive learning experiences. Discover how our products can engage your students, ignite their curiosity, and prepare them for a world that increasingly relies on technology and innovation.
Don't miss your chance to connect with the VEX Robotics team and witness firsthand how our products are revolutionizing STEM education. Visit us at EDUtech Asia 2023, and together, let's empower the next generation of innovators and problem solvers.
Find your local sales representative here: https://www.vexrobotics.com/support
Share this on social media:
---
Answering Your V5 Pneumatics Questions
Launching an updated VEX V5 Pneumatics Kit is shaking up this season's VEX Robotics Competition landscape! With renewed excitement about the possibilities pneumatics can offer to the design of a competition robot comes its own set of questions.
We sat down with VEX Robotics Mechanical Engineer Bailey Kahl to answer some of the questions we've received from our VEX Community. To recap, here are the questions we explored in this video!
Q: Will the old pneumatics kit still be legal this season?
A: Absolutely! The old SMC components and the new V5 Pneumatics Kit will be legal for the VRC season.
Q: Are the new V5 Pneumatics fully compatible with the old SMC pneumatic cylinders, fittings, and other parts?
A: Yes! The old system and the new V5 Pneumatics Kit use 4mm tubing. This means you'll be able to use cylinders between the old kit and the new kit, solenoids from the old kit or the new kit, take a tank from the old kit or a tank from the old kit—they're all cross-compatible!
As always, consult the Game Manual at the bottom of this page for the most up-to-date answers on game rules and regulations. If you have more questions about the V5 Pneumatics, feel free to let us know here, and you may see your question answered in a future video: https://forms.gle/eCZ6czcpdXvGXfHm6

Order your updated VEX V5 Pneumatics Kit here: https://www.vexrobotics.com/276-8750.html
Share this on social media:
---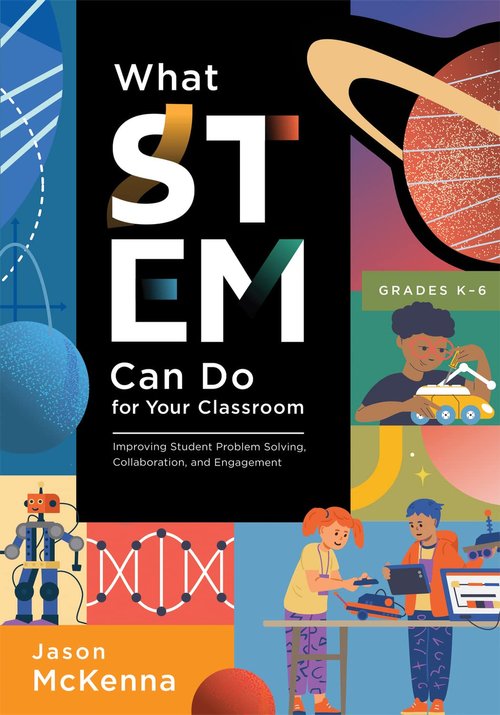 VEX Robotics' Director of Educational Strategy, Jason McKenna chronicles his transformative expedition by incorporating STEM education into his elementary learning environment. This initiative profoundly altered his career and personal life for the better. This educational transformation amplified his pupils' problem-solving acumen and inspired McKenna's methodologies for overcoming obstacles, cultivating collaborative efforts, and fostering a love of continuous learning.
With an engaging compilation of firsthand experiences, validated scholastic projects, and effective unity-driven strategies, this innovative resource exposes uncharted possibilities for deploying STEM learning within K–6 educational brackets. As a beacon for comprehensive and adventurous academic pursuits, it is an enlightening and pioneering route.
Get your copy of What STEM Can Do for Your Classroom: Improving Student Problem Solving, Collaboration, and Engagement, Grades K–6 (Supplement your teaching with field-tested strategies).
When you start implementing some of his tips, please share it on whatever social platform you prefer to use. We would love to keep up with your journey!
---
That's a wrap for this month!
If you missed last month's edition of Drive Forward Friday, here's what we covered:
Bucky Basketball: An EXP STEM Lab
VEX 123 Robotics in Special Education